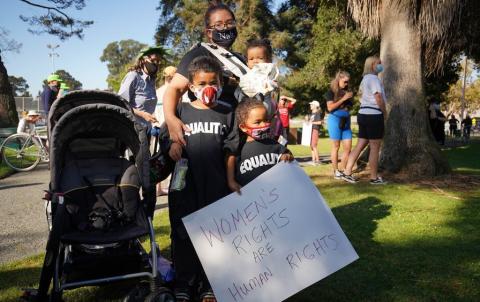 Photo by Michael Ho Wai Lee / SOPA Images / LightRocket via Getty Images
In the wake of the recent Supreme Court hearing on abortion, a Jessica Harrison, LCSW, Doctoral Candidate in Sociology in the Department of Social & Behavioral Sciences (2017 cohort),  and colleague have been published in the Nation.
What We Get Wrong About Adoption:
Activists and political leaders promote adoption as a social good, looking past the complex experiences of adoptees and the parents who relinquish them.
By Gretchen Sisson and Jessica M. Harrison
DECEMBER 7, 2021
Supreme Court Justice Amy Coney Barrett ignited fury last week when she implied during the oral arguments for Dobbs v. Jackson Women's Health Organization that people had no need for abortion because they could, instead, waive their parental rights and relinquish their newborns for adoption. People on the political left were incensed, firing back that adoption was no substitute for abortion. They are correct, both factually (based on how people make pregnancy decisions) and morally (based on the burden imposed by pregnancy alone). But their outrage over the justice's comments ignores the work done across the political spectrum to frame adoption both as a mutually agreeable common ground in the abortion debate, and as a panacea for social complexity around the desire for parenthood.