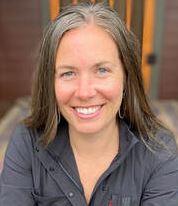 Jessica Harrison, LCSW, Doctoral Candidate in Sociology in the Department of Social & Behavioral Sciences (2017 cohort),  has been accepted into this year's cohort of the GRAD210: Justice, Equity, Diversity, and Inclusion Academic Leadership Program.  Students must apply for acceptance into this program. 
On students' journeys toward leadership roles in research, teaching, administration, or industry, understanding the value and implications of centering justice, equity, diversity and inclusion (JEDI) is key. In this unique 10-week service-learning course, students will develop in-depth knowledge of JEDI principles, build leadership skills, and gain experience designing and implementing a DEI project.
In the first seven weeks, students will be exposed to terminology, history, and theories from the DEI and leadership fields, and engage in self-reflection and critical discussion. In the final three weeks, students will apply these principles and gain knowledge and skills in program planning and evaluation as they develop and present their project proposals. Students will continue to receive mentorship as they implement and evaluate their projects over the course of the spring and summer.
More information on GRAD210 is available here.