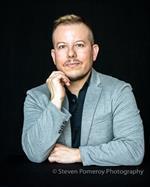 Every year UCSF recognizes and celebrates the efforts of members of our institution who demonstrate commitment and service to diversity, equity, inclusion, and anti-racism. Moreover, these individuals show extraordinary leadership in their respective fields and in the communities they serve. I am pleased to share with you the 2022 Chancellor Awards for Diversity recipients.
Chancellor Sam Hawgood recognized the recipients listed below at a reception on Tuesday last week. Each one of them has gone far above and beyond their day-to-day responsibilities to make UCSF a place that genuinely welcomes, educates, and cares for all.
Sociology PhD candidate Luis Gutierrez-Mock was chosen as the winner of a  Chancellor Award for Lesbian, Gay, Bisexual, Transgender, Queer and Intersex Leadership. Each year this award recognizes and honors up to three individuals at UCSF who have demonstrated outstanding commitment and service to the ideals of diversity, equity, and inclusion beyond the scope of their job, area of research, or training.
See Luis' video on his efforts here: 
More info on the Chancellor Diversity Award can be reviewed here.
See also: SoNs Instagram post: https://www.instagram.com/reel/CkcB--RDHGt/?utm_source=ig_web_copy_link and SON FB page: https://www.facebook.com/UCSFNursing/ and also featured it the SON  Students Weekly Digest.