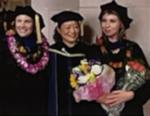 It is our pleasure to announce the 2022/23 graduates on their successful dissertation defenses and dissertation awards!

Ashley Perez (Fall 2022)
Sexual Health Among LGBTQ+ People Assigned Female at Birth from Diverse Racial/Ethnic Backgrounds: Manifestations of Power, Oppression, and Resistance in the Clinic.
This dissertation examines the sexual health and gender affirming care experiences of LGBTQ+ people assigned female at birth. Through its concurrent focus on the micro and macro levels, this dissertation demonstrates how institutional practices and policies as well as micro-level patient-provider interactions reflect and uphold systems of oppression, thereby maintaining inequality. The project documents how stigma is a fundamental cause of health care inequalities among LGBTQ+ people assigned female at birth, especially in the contexts of sexual heath and gender affirming care and for multiply stigmatized populations. However, it also sheds light on how individual patients and, together, patients and providers can resist manifestations of stigma and oppression in the clinic. Ultimately, this project calls for us to think beyond the need for LGBTQ+ health education for providers to tackle LGBTQ+ health care inequities.
Winner: 2022/23 Distinguished Dissertation Award in Sociology
Nicole Foti (Spring 2023)
Commoning Pharmaceutical Knowledge: A Sociological Analysis of Collective Action to "Open" Pharma
Access to medicines is a critical ongoing challenge to advancing goals of health equity. Recent changes in the political economic and technoscientific domains of pharmaceuticals begs a reexamination of shifting processes in this space, especially emergent forms of collective action to address structural conditions underpinning drug development. In particular, two trends in science – open science and community biology – have created the social and technical conditions through which new alternative imaginaries have emerged to research, develop, and make medicines. This dissertation offers an ethnographic account of the process of commoning pharmaceutical knowledge through open science and lay participation in drug research. Drawing on 29 in-depth interviews, over 300 hours of observations, and content review of journal articles and organizational policies and websites, I trace an emergent movement to apply open science principles and practices to the research and making of pharmaceuticals, an area I refer to as open pharma. I examine two sites: The first site is a citizen science initiative that leverages a direct social action approach to produce insulin in a community-based biology lab. Findings identify the ways in which the politics of expertise, safety regulations, scientific infrastructure, and mechanisms of internal governance impacted the group's capacity to produce safe, affordable insulin. For my second site, I interview leaders in universities and nonprofits engaged in pharmaceutical research without patents. I illustrate the active building and institutionalizing of open pharma, including how actors negotiate and draw on market logics to advance this new movement of thought. By tracing movement practices and aims, this research illuminates the consequences of alternative ways to organize scientific knowledge production and explores the potential for these projects to intervene in inequities perpetuated by the biopolitical economy of health and illness.
Winner: 2022/23 Distinguished Dissertation Award in Sociology
Jessica Harrison (Spring 2023)
Surveillance Medicine in Perinatal Care: Negotiating Constraints, Constructing Risk, and the Elusive Goal of Mental Health Integration
This dissertation takes a sociological approach to understanding the dynamics of mental health integration in perinatal healthcare in three key ways, including (1) tracing the implementation of standardized mental health screening and co-location of a behavioral health team in obstetric settings, (2) exploring midwives' and obstetricians' clinical efforts to attend to their pregnant patients' multifaceted needs, and (3) investigating pregnant and postpartum people's perinatal healthcare experiences, especially regarding their mental health. This study elucidates the consequences of mental health integration in perinatal healthcare, which include enforcement of the mind-body binary, the biomedicalization of pregnancy and childbirth, and the persistent marginalization of midwives and mental health clinicians in the organization of healthcare. This research contributes to our understanding of the misalignment between universal needs and lived experience and the culturally and structurally biomedicalized approach to pregnancy, childbirth, and postpartum in the U.S. It points to the need for policy change and comprehensive care that is better sensitized to the predominant health-related issues in the perinatal period.
Winner: 2022/23 Anselm Strauss Special Award for Distinguished Qualitative Dissertation
---