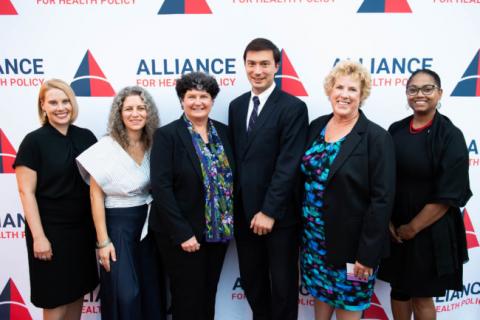 Sociology doctoral program alum (class of  2004) Melanie Anne Egorin, Ph.D., deputy staff director, House Committee on Ways and Means Subcommittee on Health has been awarded a Bipartisan Congressional Staff Award from the Alliance for Health Policy. The Alliance for Health Policy is a nonpartisan, not-for-profit organization dedicated to helping policymakers and the public better understand health policy, the root of the nation's health care issues, and the trade-offs posed by various proposals for change. The Alliance is unique among entities in the Washington, D.C., area: their goal is to carry out unbiased educational events for health care policymakers. Through our programs, including policy retreats for congressional staff and members of Congress, briefings for the health policy community, and press briefings, we bring together top national experts to convey the foundations of health policy and advance the dialogue on challenging health policy issues.
Read more at: http://www.allhealthpolicy.org/2018-alliance-annual-dinner/
Image: Alliance President and CEO Sarah Dash (left) with 2018 Alliance Annual Dinner Awardees. From left to right: Sarah Dash, Melanie Anne Egorin, Holly Harvey, Nick Uehlecke, Lori Wing-Heier, and Joseline Peña-Melnyk. Photo by Joy Asico.